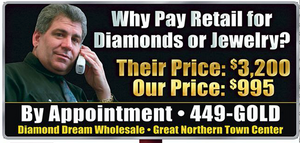 Top Rated Jewelry Store in Helena, MT
Diamond Dream is a Fine jewelry and Engagement ring store, with the largest selection of engagement and wedding rings in the area. Located in Helena Montana, we welcome you to Diamond Dream, Helena Montana's #1 jewelry store. Check out the rest, then come see us.

Don't pay retail prices! At Diamond Dream you will always pay wholesale. Come see us today, find out for yourself why we are the top rated jewelry store in Helena, MT!
Did you know?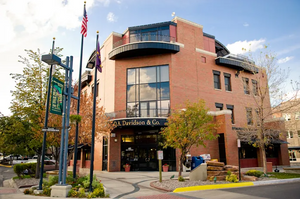 Why choose us?
We offer a wholesale diamond and jewelry experience that is unmatched by anyone. We are the top rated Jewelry Store in Helena, MT. Check us out and see for yourself. We offer a wide range of elegant fine jewelry of any style. We also import diamonds, gemstones, tools, and equipment. We have the largest selection of jewelry and diamonds you will find in Montana.
Learn More
Testimonials
A+++++++
By far the most knowledgeable jeweler around. He sits down with you in a very professional, private, no pressure setting in which he devotes an hour to educating his customers on diamonds. It felt like a college level class! After having gone to several jewelers in several cities throughout Montana, Idaho and Utah I thought I knew it all when it came to diamonds. How wrong I was. In addition to his unsurpassed knowledge, his pricing will astonish you! If his prices are ever beaten I will eat my hat. I say that with confidence since he saved me over $3,000 on the ring I purchased for my now fiancée! A true pleasure to work with,

Nathan
Very Good Company
This company hired my about a year ago. Ive watched many people come through the door. Bob (the owner) sits down with each person and makes sure they are getting the best price. Whether its buying or selling. He makes sure people have all thier needs met, and does his best to make sure they know what they are buying, or selling. He accually goes through the formula with people and shows them what he pays, then shows what he sells, or buys for. Ive never worked for someone with so much integrity before in my life. I would reccomend him as your jeweler, or your friend.

Mary
You will get exactly what you want to find when shopping at Diamond Dream. Amazing selection, quality and education about what you are getting.

Krysta Theriault
This is a great store. They came highly recommended.

Chuck Koehler